Wednesday, November 30, 2005
Stan Berenstain, beloved children's author...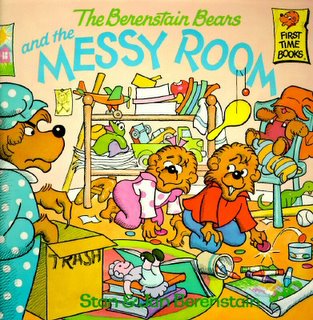 Stan Berenstain,one of my favorite childhood authors has passed on at the age of 82.Together with his wife Jan, he wrote more than 200 children's books about a family of bears. For over 40 years The Berenstain Bears helped children cope with trips to the dentist, eating junk food and cleaning their messy rooms. The first Berenstain Bears book, "The Great Honey Hunt," was published in 1962. The couple developed the series with children's author Theodor Geisel - aka Dr. Seuss, then head of children's publishing at Random House - with the goal of teaching children to read while entertaining them.
I still have my copies of Berenstain Bear books and a few videotapes laying around from when I was a little kid. Even though over the years I've given away my childhood library my I could never bear to part with my Berenstain Bear Book collection…they were the first books I ever read all by myself. My favorite has always been "The Messy Room". RIP Mr. Berenstain your work brought much joy into my childhood and fueled my love for reading as well as writing, thank you.
Labels: news items
Posted by

@ 12:26 AM
1 comment from: Aisha,