Monday, November 21, 2005
Happy Birthday Jackie !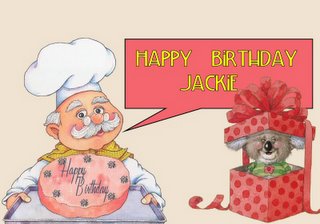 My friend Jaclyn turned 23 yesterday and we celebrated it by having a party for her at a friends' house. Reina and I schlepped all the way from El Bronx to Queens. This was the first time I was meeting this particular group of friends a group of fun lovin' cool potheads. While Jackie and I totally love each other that's not always the case with our friends but this group was mellow and fun. Except for the one dude who kept giving me and Reina the evil eye. He was grilling us as if we were plotting on the Queen Mum's bottle cap collection. Sheesssh man back the hell off already your freaking eye is giving me the creeps!
The funny thing was I kept grilling him back because he bore a freakish resemblance to the lead singer of Cold Play. Every time he looked at me I swear I could hear one particular song of Cold Play's "Yellow" playing in the sound track of my mind. Reina and I have been best friends since we were 15 and to the consternation of some we spend way too much time together. We even go to the same school and take all of our classes together. The proof that we spend too much time together came when we left the party. As we were walking I turn to Reina and mention the guy that was grilling us and his resemblance to the Cold Play dude and Reina says."yeah dude every time he looked at me I kept hearing "Yellow"…" I told her, "Me too!" and she shrieked Reina does that when she finds something really funny she will let out an ear piercing shriek. After 7 years I'm used to it but it scares the jelly beans out of those who don't know her. I love when she laughs she cracks me up.
While at the party there was this one chubby girl who caught my eye. She was visibly pregnant and was sitting there in the midst of all these weed smokers blowing smoke in her face. I was shocked I felt that for the sake of her baby she should get her butt outta there. Then someone offered her a blunt and I was horrified that they would offer her smoke but like a good expectant mommy she turned it down. I kept staring at her belly wondering how many months she was. I turned to Jackie and asked her. That's when she told me the chick wasn't pregnant! I started giggling like an escaped Bellevue patient; I could barely breathe, and prayed that Reina wouldn't start her shrieking. "Yooooo Jackie I was about to go up to that chick and ask her when she was due!!" We both agreed that it was a good thing I didn't... oh man what a blunder that would have been! So not only did I get to see my friend on her special day and get grilled at by Cold Play but I also learned a valuable lesson just because a chick looks preggo it doesn't always mean that there's a baby on board so from now on I will keep my mouth shut! All in all it was a good saturday anytime you can watch a group of pot heads smoke themselves silly AND learn a lesson life is good.
Side note to Jackie: You know how I feel about you heffa words can never truly express how grateful I am to be your midget and have you as my friend. I probably don't tell you enough but then again you and I have never really needed words to express our love for each other. Happy 23rd birthday my heffa… I LOVE YOU.
Posted by

@ 1:57 AM
1 comment from: JaCLyN,