Tuesday, September 20, 2005
Yo' mama!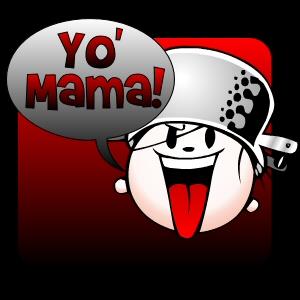 My little cousin (he's 8) is receiving a well rounded education in life. Today he came home spouting "yo' mama" jokes. Yo' mama jokes are an art form they can't be too cruel or they'll lead to a fist fight cause in the hood you don't let no one be talking bad about yo mama and they can't be too corny otherwise you'll be forever branded as being "whack" and that is not cool at all.
Anyway I decided to post some of my favorite "yo' mama" jokes as told to me by my cousin… enjoy !
 YO' MAMA'S SO NASTY, I WAS ON THE PHONE WITH HER AND SHE GAVE ME AN EAR INFECTION!
 YO' MAMA'S HAIR IS SO SHORT, SHE NEEDS HAIR EXTENSIONS JUST TO HAVE NAPS!
 YO' MAMA'S SO OLD, I TOLD HER TO ACT HER AGE AND SHE DIED!
 YO' MAMA'S SO DUMB SHE SOLD HER CAR FOR GAS MONEY!
 YO' MAMA'S SO FAT SHE WENT BUNGEE JUMPING AND WENT STRAIGHT TO HELL!
Posted by

@ 1:23 PM
0 comment from: